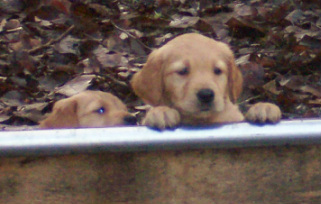 Testimonials
Professional Recomendations
Suzanne Clothier, dog trainer, lecturer and award winning author of "Bones Would Rain from the Sky: Deepening Our Relationships with Dogs"
Kathi O'Malley is a good choice, and one I can wholeheartedly recommend. I do know her, she's here at my farm 1-2x yearly as well as at other seminars. I am in regular email correspondence with her, and she is one of a select handful of members of my by invitation only Thinking Trainers list. She's also got a good amount of experience with aggression and triggers!
Not only is Kathi a good thinking trainer, she's relentless in trying to track down assistance and ideas from other professionals (one of the roles that the Thinking Trainers list serves to all members), and really cares deeply for dogs and the people who love them.
Enlist Kathi's help, and you've got a fierce and skilled advocate for what is best for your dog, for you, for your relationship in a humane, positive & professional way. Lucky you that she's in your area!
Enjoy working with her - I surely do!
~Suzanne Clothier
www.suzanneclothier.com
Testimonials
How Kathi has helped others
My miniature Australian Shepherd, Buddy, developed fear-aggression problems with both people and other dogs early in life. I have had many dogs over the years, but never one like Buddy. Over the last three years, Kathi O'Malley has helped me learn how to help Buddy see people as neutral beings instead of scary beings and to see the world outside as a place where we go have fun instead of a terrifying experience. Kathi has provided me with literature sources and training opportunities with other professional dog trainers as well as working with me and Buddy directly. Kathi has taught me is that a positive relationship with my dog is of utmost importance. I had to learn to relax as we walked instead of tensing up because of my own fear. She taught me to repeat nursery rhymes to help me relax and even to "breathe". I didn't even realize how uptight I was before we worked together.
Kathi has a way of being encouraging to both pets and people as we learn new lessons. I highly recommend Kathi as a compassionate, thorough, fun, and caring trainer of people and their dogs. Buddy and I truly love working with her.
~Linda and Buddy Greenman,
Coppell, Texas
Our appreciation for Kathi's help with our mistreated dog is immeasurable. We adopted Nicholas who was a Christmas gift to a family with 3 young children. We knew nothing about the dog when we agreed to take him into our home.
First on the agenda was a trip to the groomers and then to the vet for a check-up. The groomer had a tough time but did manage to restore him to the beautiful white Schnauzer that he is. We weren't as lucky at the vets. Nicholas had heart worms so we had no choice but to immediately start treatment. It broke our hearts that the little dog had been so neglected. Thankfully he survived the heart worm treatment, but we still had the issue of his bad behaviors ~ growling and biting. After getting booted out of class at a local pet store (for growling at the teacher) I didn't know where to turn. The trainer even suggested that Nicholas may need to be put down.
Then a friend told me about Kathi O'Malley, a dog behavior consultant. After only two sessions with Kathi we noticed a huge difference in our dog. She met with us in our home, observed Nicholas, quickly diagnosed the problem and got us started on the right track. Her method of benevolent leadership worked wonders. And now not even a year later Nicholas is happy and secure with his new family. He brings joy to our lives and we are glad that we rescued him.
~ Elizabeth Grayson
Frisco, Tx.
Kathi, I'm so glad you remember us!! You played such an integral part in Oliver's happiness and mine! I talk about you all the time...you pulling up and us seeing this small, redheaded person get out of the car. Kyle and I looked at each other...not sure how someone so tiny would EVER be able to manage our handful of a dog. And from the word go, you had his number, and HE knew it!! You were truly a lifesaver - Kyle and I still talk about if it wasn't us who adopted him, and we didn't find you, who knows where Oliver would be...or if he would even be here to talk about.
~Ginger Giles,
Richardson, Tx.

---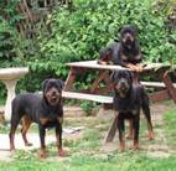 Hi Kathi,

We owe a TON of credit to you. Before we talked to you the first time, we had no idea what to do. We were very much stressed because we love all three of these Rotty girls and wanted nothing to do with sending any of them out of our home. With your guidance and expertise, you made us more aware of the dogs, their interactions, and how they communicate. It cannot be said enough - we very much appreciate your help with this situation!!!

Oh and I'll have you know one more tidbit of information. The UPS man literally JUST came to the door and delivered a package. I currently have Athena, Shug and Daisy out with me and although Daisy barked a couple of times and was still a bit excited, they all sat down and waited while I got the package from outside! ;-)

~Rebecca and Scott Weisman
Prosper, Tx.


---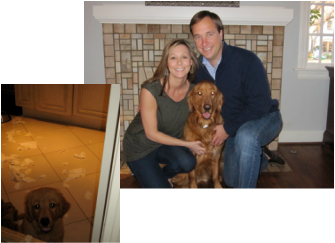 Hi Kathi!

Just wanted to say "Hi!" Cooper's 1st birthday is today and I was thinking about how far he's come over the last year and how appreciative we are for your help in turning him from a "wild man" as a puppy to a loving and well-behaved dog (well, older puppy).

Cooper goes to doggy daycare a couple times a month when our housekeeper comes to clean. The other day I went to pick him up and the receptionist said to me "Did you have him obedience trained? I remember what he was like when he was a puppy and I couldn't believe it was the same dog!" She said that when she took him out for his walks he would sit on command, etc. - I was so pleased that he was so obedient to someone other than just you, me and David!

He's done wonderfully, he's still mischievous but he's not as naughty as he used to be - he'll steal socks out of the laundry but instead of running away with them he brings them to us. He's really a wonderful dog and we love him so much!

Hope that you are doing well.

~Kylie, David and Cooper,
Dallas, Tx.

---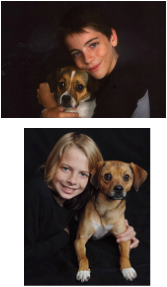 Dear Kathi,

Thank you SO much for saving our puppies lives. I am grateful that because of you I can sleep with Ruby and not be afraid. I hope you enjoy your gift. ~Zachary Hundley

Thank you so much for helping our dogs! Each night when I cuddle with my dogs,
I think of how you made this happen. ~Andrew Hundley


Kathi, Just a token of our appreciation for helping our family. You went above and beyond – staying for hours at each session, calling in between with more advice, and all at a very affordable rate. We're one big happy family again, with dogs who are happy, playful, and loving. There have been no incidents or fights for months. The dogs cuddle with us on the couch, play with each other all the time, sleep in our beds, etc. Life A.K. (after Kathi) is wonderful! :-)

Thanks a Million,
~Tracy and Scott Hundley
---